Home » Europe News » Cameron Vows 'Fightback' as Birmingham Seethes
Thursday, 11 August 2011
Cameron Vows 'Fightback' as Birmingham Seethes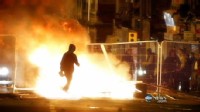 London Rioters: Where Are The Parents?
Thousands of extra police officers flooded the streets of London on Wednesday to deter rioters, and Prime Minister David Cameron warned that the government will take any necessary action to restore order and confidence to Britain's streets.
Even as Cameron promised not to let a "culture of fear" take hold, tensions flared in Birmingham, where a murder probe was opened after three men were killed in a hit-and-run drive as they took to the streets to defend shops from looting.
"We needed a fightback and a fightback is under way," Cameron said in a somber televised statement outside his Downing Street office after a meeting of the nation's crisis committee. As if to indicate his resolve, he underlined "nothing is off the table" — including water cannon, commonly used in Northern Ireland but never deployed in Britain.
The number of arrests in London alone climbed to 820, with courts staffing around the clock to process alleged looters, vandals and thieves — including one as young as 11. Cameron has recalled Parliament from its summer recess for an emergency debate on the riots Thursday.
READ MORE...
Posted by

Lc Marshal
at Thursday, August 11, 2011